More Content
Car Rental Mobile App Development Cost and Key Features
Do you have a car renting business? Or have you been thinking of car renting mobile app development? In this intelligent Car Rental Mobile App development guide, we have covered everything about the car rental mobile app. So, we will discuss various aspects of car rental apps. It includes an overview of apps, the cost of development, and key features you can have. Therefore, be with us if you want to develop your intelligent car rental app. Here, you will find the appropriate and exact information on how to build car rental apps. So, go through this guide thoroughly and develop your car rental app.
What Is A Car Renting Smart App?
Nowadays, most people want to live a luxurious life. So, people don't want to miss enjoying their lives. However, the developers can satisfy customers by providing rental cars and Car Rental Mobile App to book their cars. Of course, car rental services are affordable for a majority of people. It serves the users as under;
There are lots of options for cars.
Apps can provide attractive offers to avail.
Users can compare the prices of cars.
Users don't have to go through a lengthy process.
There is no need for unnecessary calls.
Users can book their journey.
It sends important notifications to users.
What Are the Pros Of Car Rental Apps?
If you build your car rental apps, you can serve passengers from all over the world. So, your users can access cars for rent in their region. However, when customers get the best deals at affordable prices, they become loyal customers. Apart from these, the other benefits of car rental apps include the following.
The car rental industry has constantly been growing. So, it is one of the biggest companies.
These apps don't only target big companies, but they also target small companies.
According to the reports, car rental apps generate more than 50,000 million dollars annually. However, experts believe it increases by 18.5% every year. So, it will generate 100,000 million dollars by 2024 (every year).
How Do Car Rental Apps Generate Revenue?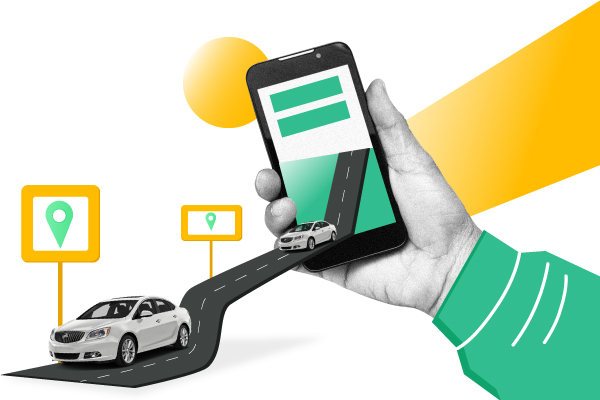 Any businessman that wants to enter the travel industry would like to know how to make money through car rental apps. So, from now onwards, you will learn about car rental apps' revenue models. Keep in mind that your car rental app will help users get cars to rent. Additionally, you will serve the following luxury services too.
1. Car Fleeting Services:
In this revenue model, the app owner buys some cars and lets drivers use them for their business. First, it helps to get a base fare given by the passenger. After that, you can pay drivers monthly or give a commission.
2. Commission Model:
You can collaborate with some car owners if you don't buy cars. Then you can charge a commission from each journey booked by your app. So, you don't have to own your vehicle to provide rentals or booking services.
3. Type of Cars:
Users can prefer the type of cars according to their comfort. So, you can charge according to the quality of your services.
4. Self-Driving Cars:
Your car rental app lets users drive the car on their own. So, you don't have to have drivers. Instead, they can book the car and go on their own.
You can provide cars to corporate leaders and clients. It includes luxury cars.
6. Intercity Traveling:
You can provide this business model if your users need cars to visit other cities. So, the car rental apps earn this way too. Or else, you can allow them to rent cars based on hourly charges.
How Does Car Rental App Work?
Any service provider apps work differently for both customers and Admins. So, we will cover all essential features based on both cases.
Features for Users' End:
It is an essential feature of all apps. So, your car app should have this feature. It lets users create their profiles and setup. Hence, they can log in and use your services.
You may have different users. So, all of them have additional requirements. That's why you must add other car options to satisfy your customers. It includes regular and luxury cars.
Your users can choose the car according to the size, color, brand, and specs.
● Booking/Cancellation Management:
Customers want to book their services quickly. So, you can help them not worry about their rides. Hence, car mobile app development includes booking and management features. It allows them to book or rent cars and manage their bookings. If users want to cancel their journey, your app must let them do it.
Once they select the car and destination, you can offer the fares according to their journey. So they can choose the service. Additionally, online payment and cashless transactions help them feel luxurious.
These all are essential features. Including GPS and Maps can help decide fares and routes. Also, you can send them important notifications about upcoming bookings and offers or recent transactions.
Backend Features:
The backend features are for admins and authorities. These features help them manage their cars and services well. So, while building car rental apps, you must add these features to your Admin apps.
Admins can manage cars through this feature. So, Admins can update car information confirmation. So, they must have a dashboard to drive cars, make customers, and make bookings. It includes adding and showing addresses, maps, and fares.
Admins can collect payments through online banking systems. So, they need payment gateways included in the admin app. Additionally, if you allow admins to manage fares, they can offer customers. So, it helps increase the number of successful bookings.
The admin app must be able to manage cars with different categories and configuration addition; It must have analytical tools that calculate and record journeys, bookings, and activities.
What Are The Advanced Features Of Car Rental Apps?
The following features are essential when mobile app development uses the latest technologies and AI tools. So, any car rental app needs the following advanced features.
Assigning Drivers:
You can include this feature to let users book the driver with the car. If users can select the person who will drive the vehicle, they will be more comfortable throughout the journal addition; however ever; it will increase the ratings and positive feedback.
Exciting/Changing Offers:
Your car rental app must include information about fixed packages, the journey duration, traffic, rates, and offers. So, customers spend more time on the app while navigating through stuff.
Security Assurance:
The car rental app must include various information. It consists of the journey details, traffic, speed allowance, how old the car is, and the vehicle's condition. Also, you must include the driver's information and expertise in driving the vehicle. Moreover, GPS helps trace customers for their security.
Data Collection:
You can include AI to track user behavior. So, it helps to feed the exact offers and services that customers need. The AI understands customers and their activities. This way, it offers similar services and offers. So, your app grows and retains loyal customers.
Schemes/Offers:
Once AI understands the customers, you can provide schemes according to their interests, locations, preferences, and repetitive bookings.
Chatting Tools:
You must always be in touch with your customer. Chatting Tools help you stay connected to your customers. So you can solve their queries and assist them. You can include voice, video, textual, or infographic chatting tools.
Text Message/Email Marketing:
You can include these two services to inform your users about your future offers. So, even if they're not online, you can reach them. In addition, it helps you send custom offers and packages.
Booking Multiple Services:
If your car rental apps let users book multiple journeys for different locations, they can plan their trips. Hence, it helps your business grow.
KYC Documents:
You should take KYC Documents from users. Once they've finished profile creation, this feature lets you Know Your Customers. Also, let them know their data is for security purposes and confidential. Either ask for images or PDFs or let them scan through the app.
Emergency:
You must know if your customer feels insecure with your car or driver. So, emergency or panic buttons can quickly send you their locations, customer details, and driver information with vehicle details. Hence, you can take appropriate action.
How Much Does It Cost To Build A Car Rental App?
Before you start car mobile app development, you must know your customers and app features. So, the region you target and the feature complexity will define the cost of the car rental app.
You can contact innovative app development companies to build car rental apps. They may charge hourly, daily, or per project. Still, the approximate cost of car rental app development is between $10,000 to $30,000 and even more.
However, the cost increases if your app includes more technical and advanced features. So, adding AI Tools, voice assistants, 24/7 chatting tools, and other advanced tools can cost much.
Wrapping Up:
Do you want to build your unique car rental app? We explained the detailed procedure in this car rental mobile app development guide. So, you can start building your car rental app and target customers. You can hire intelligent app development companies if you don't know the technical aspects. So they can make your commercial aBut, of. Of course, you must develop an innovative app with all the intelligent features. Moreover, if your app can not compete with competitors, it cannot retain loyal customers. So, develop an innovative car rental app.
Read more:-
https://wisesofttech.com/what-are-mvnos-how-are-they-useful/
Google Maps adds new features for cyclists, and we tell you what they are
Android Auto App can be used wirelessly with any mobile with Android 11 and with 5GHZ WiFi
8 Secret Mobile phone Settings You Should Try